Who said vegetables have to be boring? I've been making a lot of Roasted Vegetables this fall/winter and loving them. We were out to dinner recently and a nice side of pickled vegetables was served with my husband's meal. They were to die for! I asked the server what was in them and got a few ingredients. I went home, scoured the internet for different recipes and came up with this one.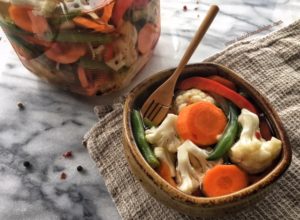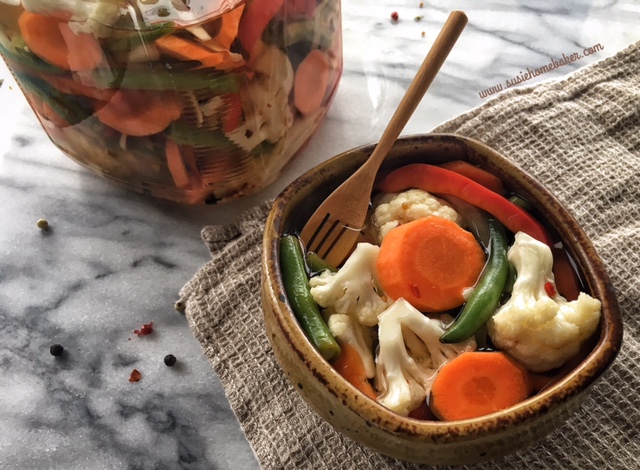 It's easy to customize the vegetables to your own preference. Try adding different fresh or dried herbs like dill, thyme or rosemary. Whole spices like red pepper flakes, peppercorns and mustard seed will give you a flavor burst along with some garlic or fresh ginger. You can adjust the sweetness with the amount of sugar used, but be sure to use a little to balance the acid.
They're perfect for some healthy snacking, a side dish with dinner, on a sandwich or a colorful addition to any charcuterie or cheese board.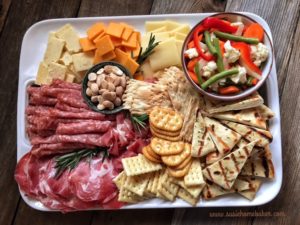 What's your favorite way to prepare vegetables?
Pickled Vegetables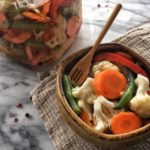 A quick, easy and tasty way to add color and crunch to your meal or snack!
1 onion (thinly sliced)
1 garlic clove (thinly sliced)
6 cups of your favorite vegetables cut into pieces (I used carrots, green beans, sweet bell peppers and cauliflower)
2 Tablespoons yellow mustard seeds
1/2 Tablespoon peppercorns
½ teaspoon red pepper flakes (use more if you like spice)
1 1/2 cup white vinegar
1/2 cup water
1/2 cup sugar
2 Tablespoons kosher salt
In a large heat-safe bowl or jar, combine onion, garlic, and your choice of vegetables. Add the spices to a medium sized pan along with the vinegar, water, sugar, and salt. Bring to a boil and stir until sugar dissolves. Pour boiling mixture, along with the spices, over vegetables, making sure that the vegetables are covered. Let the vegetables come to room temperature, stir, and then cover and refrigerate.
Store in the refrigerator for up to a month.