Every year we make a trip to Lake Superior's North Shore and stop at Buddy's Mercantile in Two Harbors, MN to buy enough wild rice to last through the year. I love that I can get the really long, chewy grains there that I can't seem to find anyplace else. I've heard that it's a really messy process, but someday I'd like to get in a canoe and harvest my own. Stay tuned!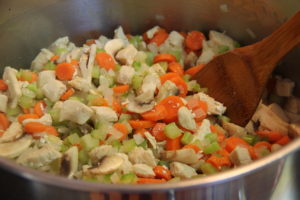 This soup is my family's all-time favorite and yes, my daughter still picks the carrots out or leaves them behind for me. I usually add fresh chicken, but it's a real time saver to use leftover cooked (or rotisserie) chicken. It's also the perfect soup to make after Thanksgiving. You can totally use your leftover turkey instead of chicken.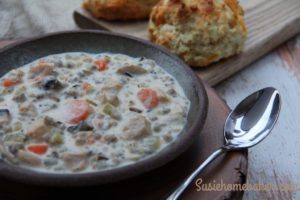 Cook up a batch of this soup and get ready for the winter that's ahead. Oh, and have a rice day!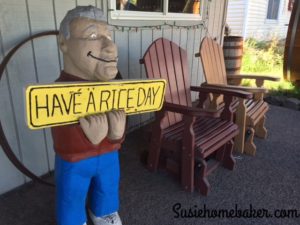 Creamy Chicken Wild Rice Soup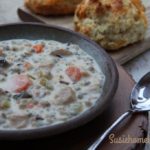 The soup you'll be making all winter to stay warm and cozy. This version is guaranteed to hit the spot!
½ cup butter/olive oil blend
1 ½-2 ½ pounds chicken
3-5 carrots (sliced)
4 stalks celery (chopped)
1 medium onion (chopped)
½ pound fresh mushrooms (sliced)
2 cloves garlic (minced)
2 Tbsp flour
2 quarts chicken broth
1 Tbsp Worcestershire sauce
1 tsp white pepper
1 tsp Lowry's salt
2 pints half and half (you can lighten by substituting part or all of half and half with milk)
2-3 cups cooked wild rice
Cook rice according to package directions.
In a large pot, sauté chicken in butter/olive oil blend.
Add vegetables and stir occasionally until they start to soften, about 5-8 minutes.
Sprinkle flour over the vegetables and cook until lightly browned.
Add chicken broth and seasonings and continue cooking until the vegetables are soft, making sure to stir often so it doesn't stick to the bottom of the pan.
Stir in half and half or milk and reduce heat to a simmer.
Add rice; stir occasionally until the soup is heated through and has reduced to the consistency you like.
The rice continues to soak up the liquids in the soup, making it thicker. Adjust the consistency by adding more milk.