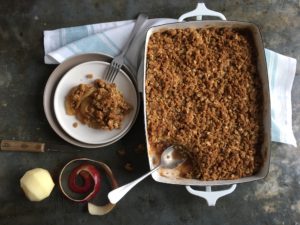 My sister flew up to visit for a few days and escaped hurricane Matthew, so we had a sister weekend for the 3 of us girls roaming around Minnesota. We hopped on a trolley in Stillwater, hiked Taylors Falls and did a road trip up to Grand Marais to try to find some wandering moose, see the fall colors and listen to the waves crashing against the rocks on Lake Superior. On the way home, we stopped at one of the apple orchards to pick apples for our dessert.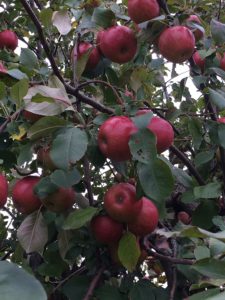 We bought a few different kinds of apples. (That's the secret to the best flavor and texture of an apple crisp or apple pie). Shhhhh! Pair a tart apple with a sweet apple and a firm textured apple with one that's juicy or mushy when baked. I used Honeycrisp, SweeTango and Haralson. If I had some McIntosh, they would have gone in there as well. I love the smell of apple crisp baking in the oven and watching the leaves swirl around outside. It's what fall should smell like. This recipe has a ridiculous amount of topping that's not too much, because that's really not possible! The best way to mix the topping is to get in there with your hands. Mix it up well and drop the clumps of deliciousness on top of the apples.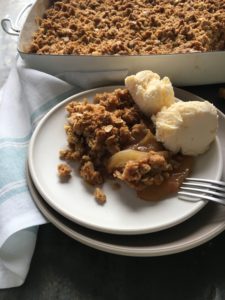 Vanilla Bean Apple Crisp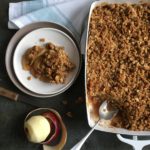 Apple Crisp is the perfect easy-to-prepare dessert this time of year. This recipe is made with a variety of apples, cinnamon, vanilla and sugar under a bed of buttery oats and brown sugar.
10 cups apples (peeled, cored and sliced)
3/4-1 cup white sugar
1 tablespoon all-purpose flour
1 teaspoon ground cinnamon
1/4 teaspoon nutmeg
1 vanilla bean (split lengthwise and seeds scraped or 1 tsp vanilla or vanilla bean paste)
Topping:
2 cups quick-cooking oats
2 cups all-purpose flour
2 cups packed brown sugar
1/2 teaspoon baking powder
1/2 teaspoon baking soda
1 cup butter (melted)
Preheat oven to 350° F.
In a large mixing bowl, toss together the apples, the white sugar, 1 tablespoon flour, cinnamon, nutmeg and vanilla beans. Pour the apple mixture into a 13×9 baking dish.
For the topping: Combine the oats, flour, brown sugar, baking powder and baking soda. Add the butter and mix until it comes together in large clumps. Sprinkle the topping evenly over the apple mixture.
Bake the apple crisp until the fruit is bubbling and the topping is golden brown and crisp, about 45 minutes.
Serve warm with a scoop of vanilla ice cream.
You can also make apple crisp in individual ramekins or in a cast iron skillet.